NQ700- DESIGNER COMPUTERIZED SEWING MACHINE
For the beginner or the experienced seamstress, the Innov-ís NQ700 from the Q-Series lineup has an array of 180 built-in stitches that allow you to be creative in your designs. With a 14% larger workspace* and improved sewing with longer feed dogs and the included zigzag foot, this machine is ideal for making, repairing or altering clothes and home furnishings. The Innov-ís NQ700 offers convenience, flexibility and quality, all at an affordable price you'll be sure to love!
*Versus previous model without extension table.
H537ST - Strong & tough Sewing MACHINE,
The H537ST is the perfect machine for everyday sewing and mending on everything from durable outdoor fabrics to lightweight elegant silks. Including a metal needle plate for smoother fabric feeding, and heavyweight needles, the H537ST can handle layers of heavier fabrics. Also included are 54 utility and decorative stitches for blind hems, stretch stitches, buttonholes, zipper insertion, and more. The H537ST comes complete with 6 sewing feet, including a spring action zigzag foot, nonstick, blind stitch, zipper, buttonhole, and button sewing feet, Plus, the drop feed feature allows you to do free-motion sewing. The built-in handle allows the machine to easily go from sewing table to storage, when not in use. This machine also has a built-in easy needle threader, jam-resistant Quick-Set™ drop-in top bobbin, automatic bobbin winding system, and a free arm for sewing cuffs and sleeves.
---
3034d Serger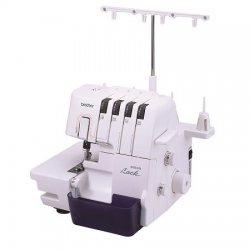 Give a professional look to your next project with serged seam finishes. Seams lie flatter and look better with an overlock stitch. Home decor projects often suggest the use of a serger for rolled hems and secure seams and differential feed. Choose from a 3 or 4 thread look and enjoy the new and easy threading method. The 3034D features two needles and 3 or 4 thread with differential feed. Create stitches from 2.0 to 4.0 mm in length. Differential feed ratio of 0.7 - 2.0 gives improved stitch quality. Free arm mak es it easier to sew sleeves, trouser legs and other hard to reach places.
---